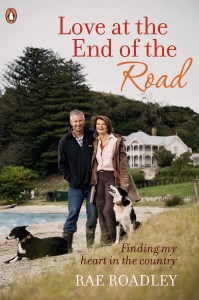 How does a life-long city dweller in her middle years find 'love at the end of the road', particularly when that road threads through the backblocks of New Zealand and winds up at a sheep and beef farm on the Kaipara Harbour?
At an auspicious meeting at dating service Dinner for Six, Rae meets and falls in love with Northland farmer and honest Kiwi bloke Rex Roadley. What lies ahead is not without its challenges and heartaches, and the need (on both sides) to compromise.
Love at the End of the Road is a  charming love story that's beautifully written from the heart; not only does Rae find love with Rex, but she finds out more about herself than she ever knew. Woven through her account is the story of the great house itself at Batley and the history of the surrounding countryside.
Morphing from city to rural life isn't easy, but Rae simply gets on with it. Together, she and Rex begin to transform the charming but battered historic villa, Batley House. As their relationship settles and deepens, they set about making a home together while Rae, who lost her mother in her late teens and, soon afterwards, her way in life, continues on her path of self-discovery.
Rae is drawn into every aspect of life on a 400ha farm; from training her cattle dog Floss to slogging through the rain and mud, competing at A&P shows, catering at the local sports complex, moving cattle – including a spectacular moment when she's mown down but unharmed by a marauding bull!
As Rae gets to grips with her new life, we also see evocative images of a by-gone era : there is strife between Ngapuhi and Ngati Whatua; settlers arrive along with a missionary ; boating regattas draw hundreds of people; Batley becomes a port and centre of industry with fish canning factories; the community builds a church and school (now long gone); sheep give way to bulls; and oyster spat catching begins. In the late 1800s, Batley House is a boarding house and in the 1970s a home for solo-parent children.
Love at the End of the Road is a heart-warming, amusing and inspiring story about one woman's journey of discovery. It is also a very candid and courageous story; one that explores universal themes and delves into the 'hidden corners' of a loving relationship, revealing all its joys and tribulations. Rae writes unflinchingly, but with a light touch, about what she gives up, and gains, in her new life with Rex, and just what it means to find 'love at the end of the road'.
Click here>> to order your copy of Rae's book. 
Thanks for these words to ace publicist Sarah Thornton of Thornton Communications.