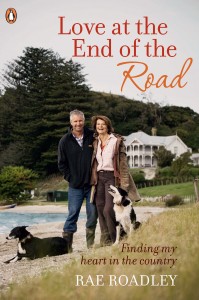 Have the Heart: Forbidden love, stolen treasures, secrets revealed. Glory Omahu defies her family and nothing in the close-knit community on New Zealand's east coast is the same. As residents grapple with change, Glory and Jack Gunn's connection deepens along with the conflict between their families.
Love at the End of the Road: No bitter conflict here. This book tells my  story about falling in love with a farmer and leaving city life to live on a remote farm on a Kaipara Harbour peninsula loaded with a rich history.
While you're here, you can . . . 
To buy Love at the End of the Road – the hard copy: Please contact me or buy both ebooks from Amazon.
Meet us on TV1's Good Morning show ahead of our Country Calendar episode 'Time and Tide'. It
Warm wishes, Rae
PS: Countless readers have told me, "You made me laugh and you made me cry'". I hope you enjoy my books as well.