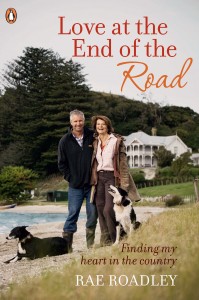 You can get the ebook here: Love at the End of the Road – on Amazon
'I could write about this' was my second thought after being charged by a bull. My first scrambled thought while sprawled on our dusty road in the New Zealand backblocks was: 'Ouch! Phew, I'm okay.'
Pretty soon readers of my newspaper columns wanted a book – and Penguin NZ stepped in. Love at the End of the Road is a love story, complete with highlights, humour and heartbreak – and animal stories. That's my dog Floss beside me.
You can get the ebook here: Love at the End of the Road – on Amazon
You can meet us and the farm in MindFood mag – we talked about Silver Fern Farms and yummy lamb.
See us on TV1's Good Morning show ahead of our Country Calendar episode 'Time and Tide' that screened in August 2012.  .
While you're here, you can . . . 
To buy the book: Please contact me or buy the ebook from Amazon.
Warm wishes, Rae
PS: Countless readers have told me "I couldn't put it down" and "You made me laugh and you made me cry'". I hope you enjoy my book as well.